Too Faced Sweethearts Bronzer
Makeup, we feel, is a woman's power to look great and beautiful. It's a freedom to self-expression, and Too Faced is one of their supporters as they provide the most cutting-edge innovative cosmetics and beauty products. The article will cover Too Faced Sweethearts Bronzer Review.
From their wardrobe, you can find cruelty-free cosmetics that are on-trend. Too Faced isn't just a cosmetic brand, it's a fantastic one! A vegan cosmetic company that creates the greatest palettes that are both lovely to look at and beautifully pigmented. you can also check out their most trendy collections from their website.
Let's come to the point. Let's reviews today's product Too Faced Sweethearts Bronzer. We hope the article can give you a complete review of everything about the Sweethearts Bronzer.
Too Faced Love Flush Powder Blush Watercolor Blush - Crazy in Love
Too Faced Love Flush Blush Watercolor Blush - Crazy in Love
You'll fall in love with these super soft, silky blushes that will have you flushed with the afterglow of your first love. Formulated with a nourishing blend of tropical cocoa butter, this formula blends beautifully for a lightweight feel. Buildable pigments and a natural satin finish give cheeks the pretty pop of color you lust after.
SIZE: 6.0 g / 0.21 oz.
item form: Powder
Too Faced has one of the most extensive bronzer collections on the market. In the summer, who doesn't want to be glow? The Too Faced Sweetheart Bronzer may be the perfect choice for you this summer. It's a beauty product that's also suggested by professionals. For example, Emilynoel83 discussed the product in her video. You should trust her because she never works with or is associated with any affiliates business.
The packaging of this product is really adorable and of course trendy. The bronzer is packaged in a heart-shaped box with a teal blue lid and gold details.  The cover is not attached and may be removed totally. Yet, it has the disadvantage of being very large and difficult to carry.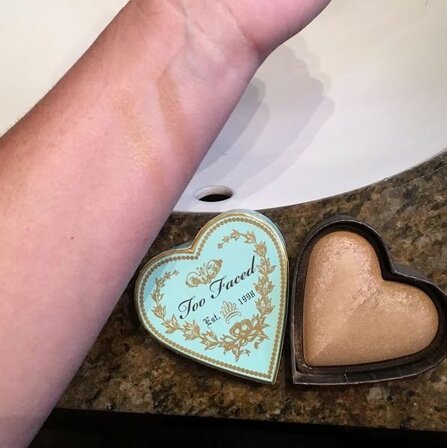 The inside of this bronze looks like a two-toned baked heart when you open the package. The left side has a lighter, more cool-toned glittery bronzer, and the right side has a warm, more golden, and deeper tone. There is no fragrance to this bronzer.
We have found something about their products. They have said "Take the guesswork out of creating a sweet, romantic bronzed flush. In each baked, heart-shaped bronzer there are two individual color swatches. The baking process and multiple colors create dimensional color to provide the look of brighter, healthier skin." You can combine the two swatches to make a new universal hue/custom color, and use each swatch separately to create a unique color.
So we think this multidimensional radiant bronze is actual beauty. For a brighter and healthier finish, you are welcome to try this product. What else you are expecting? Yes, the great option is you can swirl them for a custom color for glow or highlight, and for a buildable finish, this bronzer is one of the best. Too Faced Sweethearts Bronzer is perfect for all types of skin tones.
The main idea about the brand you should know is that the brand is cruelty-free and this bronzer is also a vegan product by Too Faced Brand. This bronzer has a tremendous amount of pigmentation. Even though this is a baked bronzer, trying to pick up pigment is not challenging. While swatching it, the bronzer goes on gently.

It's not important to scrub and work hard at it. It also grabs really well with a brush. Anywhere along cheekbones, apply the darker shade. Then, for a slight highlight, put the brightest shade on the high points of the cheeks.
We believe, few individuals love more glitter on their cheeks. This bronzer will boost the appearance of texture and make the piece look bulky. This bronzer has a very delicate shimmer to it, with no excessive glitter. As a result, the cheeks will get a natural shine. When you're in direct sunshine, your cheeks will have a lovely shine. It's a gentle light and you will love the look.
Now let's talk about the ingredients that are existing in this bronzer. The product details say that the Too Faced Sweethearts Bronzer contains Mica, Talc, Nylon-12, Silica, Dimethicone, Propylene Glycol Laurate, Phenoxyethanol, C13-14 Isoparaffin, Caprylic/capric Triglyceride, Cetearyl Ethylhexanoate, Chlorphenesin, Ethylcellulose, Glyceryl Ethylhexanoate/stearate/adipate, Laureth-7, Octyldodecyl Stearoyl Stearate, Polyacrylamide, Polyglyceryl-2 Dipolyhydroxystearate, Polyglyceryl-3 Diisostearate, Polysorbate 20, Ppg-25-Laureth-25, Propylene Glycol Isostearate, Rosmarinus Officinalis (Rosemary) Extract/Rosmarinus Officinalis Extract, Sorbic Acid, Sorbitan Stearate, Tin Oxide, Triethylhexanoin, Vaccinium Vitis-idaea Seed Oil. May Contain (+/-): Iron Oxides (ci 77491, Ci 77492, Ci 77499), And Titanium Dioxide (ci 77891).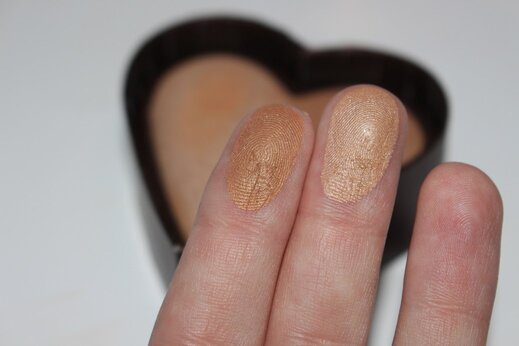 That's all about Too Faced Sweethearts Bronzer Review. So if you want any good bronzer then you can simply opt for this one! We are highly recommending this one for its excellent features. We believe you will love the 2 shades: Golden Beige, Brewed Tea Bronze, Its baked color formula that is perfect for all skin types, its easily blending capability, and the way it leaves glows and healthy skin look.
Then the custom shade features and bronze ingredient lists are also excellent that made this bronzer amazing. Actually, reviewers also love the product that's why we suggested you try this beautiful bronzer shade. Try this one once and let us know about your experience.
Q. What is the best Too Faced makeup product?
Ans. Too Faced isn't just a cosmetic brand, it's a fantastic one! A vegan cosmetic company that creates the greatest palettes that are both lovely to look at and beautifully pigmented. We are providing the best Too Faced makeup products name so that you can be aware of their best products.
So the best Too Faced products you can purchase are Too Faced Born This Way Foundation, Too Faced Better Than Sex Mascara, Too Faced Lip Injection Extreme Lip Gloss, Too Faced Hangover Replenishing Face Primer, Too Faced Born This Way Super Coverage Concealer, Too Faced Diamond Light Highlighter – Diamond Fire, Too Faced Pretty Rich Eye Shadow Palette, Too Faced Hangover 3-in-1 Primer & Setting Spray, Too Faced Better Than Sex Liquid Eyeliner, and Too Faced Soleil Chocolate Bronzer is also a great product you should own for yourself.
Q. Is Too Faced a good brand?
Ans. Yes, Too Faced is a good brand and they have some amazing products in their collection. They have the most trendy collections of products. so you can check their website for the latest item they launched.
Too Faced isn't only a nice makeup brand, also, it's fantastic because of its good features! Too Faced is a vegan cosmetic brand that creates the greatest palettes that are amazing to look at and wonderfully pigmented. Yes, Too Faced is a cruelty-free and vegan cosmetics company. So you don't have to worry about any harmfulness. Opt for their best products to get a good appearance.
Q. What is the best bronzer?
Ans. There are some good brands that are offering excellent bronzers for the customers. A makeup user or skin caretaker always tries to find the best products for them. And for such kinds of users, we are suggesting the best bronzers they should own.
So we are suggesting the best bronzers that Leave You Looking Sun-Kissed, Not Streaky. The best overall bronzer is Chanel Les Beige Healthy Glow Bronzing Cream. then the E.L.F Primer-Infused Bronzer, L'Oréal Paris True Match Lumi Bronze It Bronzer, Too Faced Chocolate Soleil Matte Bronzer, Lawless Summer Skin Velvet Matte Bronzer, IT Cosmetics Bye Bye Pores Bronzer.
Also, Urban Decay Beached Bronzer, Fenty Beauty Cheeks Out Freestyle Cream Bronzer, Charlotte Tilbury Filmstar Bronze & Glow Contour Duo, Guerlain Terracotta Original Bronzing Powder, Dior Diorskin Mineral Nude Bronze, Benefit Hoola In Natural Bronze, Mented Cosmetics Bronzer, and NARS Bronzer Powder. These are the top picks. If you want a good bronzer then choose from them. You will be happy with the performance.
Q. What bronzers do celebrities use?
Ans. Celebrities always try to use the best products that suit them well. So they also pick bronzers that come from high-quality brands. We are sharing the bronzers celebrities use for a night out.
Most often we see celebrities use Maybelline Fit Me! Bronzer $6, Chanel Soleil Tan de Chanel Bronzing Makeup Base $50, Benefit Hoola Bronzer $30, Kevyn Aucoin The Neo-Bronzer $38 andMAC Bronzing Powder $30.
Q. Which bronzer should I get?
Ans. When we purchase a bronzer we should be careful about the product that suits us. Because before using a bronzer you should know about your skin types.
As a basic rule, use a bronzer that is one or two shades darker than your natural skin tone. Try to determine whether your skin has a cool, neutral, or warm undertone. If you choose the wrong bronzer according to your skin tone then you will not get the look you want. So this is the first priority to use the bronzer one or two shades darker than your natural skin tone.