Wella Demi Permanent Hair Color
     Wella professionals is a well-known German hair care company that delivers styling ideas, salon hair products, and hair color ideas. This company is the beauty destination of every saloon professionals and beauty professionals. The article will give a broad Review Of Wella Demi Permanent Hair Color 2021. It is most popular for hair care. Wella has products including shampoo, conditioner, and most specially Wella products are designed to provide shine and add volume to hair. 
     They have been delivering the best hair color products. They have permanent hair color, demi-permanent hair color, and also they have semi-permanent hair color. If you are looking for hair dying then you can try demi-permanent ammonia-free hair color as it is a growing hair color category that has so many advantages. For the perfect desired look and hair color you can try Wella Demi Permanent Hair Color. The main motto of Wella hair color is to provide good products for customer satisfaction. Let's see how Wella Demi Permanent Hair Color works. 
     Wella Demi Permanent Hair Color, an excellent choice for every beauty care professionals. You can try Wella colorcharm demi-permanent hair color which is perfect for a silky soft, great for refreshing dull hair color, and glossy look. The colorcharm toners are beneficial for refreshing and glossy hair. This hair color provides new fashion tones, vibrant colors, and creamy consistency. There are some people tensed about their gray hair. This Wella ColorCharm Demi Permanent Hair Color is perfect for grey coverage. 
   Wella demi color is a long-lasting color most ideal for gray blending up to 50%, toning, adding color shine up to 43% even if it's darker hair, creates a dark color that is woven into the hair and give a light floral aroma. This is an amazing demi-permanent hair color that comes in warm, ash, gold, red and neutral shades. These are ammonia-free demi-permanent color creams. 
     This demi-permanent creme hair color will take only 20 minutes or less than that. It has a 1:2 mix ratio indicating each tube creates 6 oz of hair color. It is up to two applications per tube which is economical and effective. Make sure you use color charm lotion with this demi hair color for the best result.
     If we talk about the ingredients list then we can that it contains water/eau, fragrance/parfum, cetearyl alcohol, ethanolamine, laureth-3, sodium laureth sulfate, sodium lauryl sulfate, sodium cocoyl isethionate, sodium sulfate, sodium sulfite, resorcinol, glyceryl stearate se, toluene-2,5-diamine sulfate,  lanolin alcohol,  beeswax/cire d'abeille, ascorbic acid, 2-methylresorcinol, etidronic acid, hydrolyzed keratin and so on. All the ingredients are very much effective that made Wella's demi-permanent colors more professional.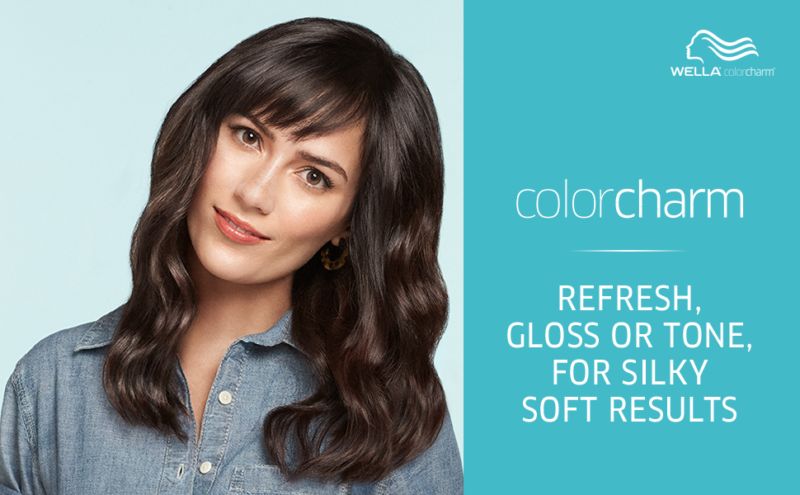 Wella always has been a professional haircare company. If you are not satisfied with your demi hair color product then we are highly recommending you Wella Demi Hair Color or Wella Color Charm demi-permanent hair dye. If you are looking for the perfect shade on your hair then no doubt Wella demi color or demi-permanent colors can be the best of all.
     Beauty bloggers, beauty professionals, and beauty experts recommend this star rating Wella demi hair color. Except for hair colors, Wella is also renowned for its other professional items. So if you need any professional items of beauty care then Wella can be a perfect choice. 
How long does Wella Demi-permanent's hair color last?
Ans. Wella Demi-permanent hair colors are a highly recommended hair color products. They are beauty professional's choices. It has a low volume developer and it is an ammonia-free demi-permanent color. 
     If you wash your hair regularly or every day then it will last for four weeks. Normally Wella demi-permanent hair color lasts up to 28 shampoos. When your hair roots start to show you should refresh your hair color. 

How do you apply Demi-permanent hair color at home?
Ans. Demi-permanent hair dying is a good choice as it provides lots of benefits. Demi-permanent hair color has molecules that get under the outer cuticle of the hair shaft and it's an ammonia-free hair coloring idea. If you want to apply demi-permanent hair color at home you need to follow some steps.
   When you want to apply your demi-permanent color at home first you need to wash your hair completely then dry it properly. Then apply petroleum jelly around the hairline and ears so that you don't have to see stains. Use latex gloves and use the applicator given with your hair color product and apply the color. Hope you will be able to see your desired demi hair color done by your hand. Good Luck. 
What is the best demi-permanent hair color? 
Ans. Hair coloring is a good idea and you will find mainly three levels of hair dying idea. The very first one is permanent hair dye then demi-permanent and semi-permanent dye. 
     If you are looking for the best demi-permanent hair color then you can try Wella colorcharm Demi-Permanent Hair Color as it provides a silky soft, refreshing color, glossy look, and most importantly perfect for gray coverage. Also, it provides long-lasting color and vibrant results. This one is the most recommended but Clairol Professional Soy4Plex Crème Demi-Permanente Hair Color and Ion Color Brilliance Intensive Shine Demi-Permanent Creme Hair Color are also the best quality demi hair color product. After a lot of research, we have found these three hair color products as the best demi-permanent hair color. 
Does Demi-permanent color damage hair?
Ans. It is said that the demi-permanent hair-dying idea is good. As demi-permanent hair color is ammonia-free hair color like the way semi-permanent hair color contains no ammonia. so you are safe. 
     Trying Demi-permanent color shade does not damage your hair. It does not lighten your hair and another important thing is it does not contain bleach or hydrogen peroxide. Though there are so many hair color products available that cause damage to your hair so you have to choose the best one for you. And we can recommend you Wella Demi Permanent Hair Color for the best result. 
What is the healthiest hair dye?
Ans. Before you dye your hair make sure you choose the best hair color product. We are consulting you top 5 natural and effective hair Color Dyes for you.
     Depending on your choice whether you choose permanent hair dye or demi-permanent or semi-permanent you can try ELLE Green Beauty Star Winner 2020, Clairol Natural Instincts Semi-Permanent Hair Color, Manic Panic Amplified Semi-Permanent Hair Color, Madison Reed Radiant Hair Color Kit or you can go for Naturtint Permanent Hair Color.