NYX Professional Makeup Mineral Stick Review 2022
Makeup is not an easy task. It requires a lot of effort to finish it. But have we ever wondered what if a single makeup or cosmetic product could serve the whole purpose for us! That would be great right? Keeping this in mind NYX has bought their new professional makeup mineral stick. Which can be a foundation, a highlighter as well as a contouring stick. The stick is very convenient to use and easy to apply. It quickly blends with the skin and provides high coverage. It is by far one of the best products NYX has ever bought.
NYX has always tried its best to bring products that can ease makeup for people. Their products have always been very easy and convenient to use. They are very much user-friendly. Their effect lasts for a longer period. Not only that, most of their products are efficient.
This NYX Mineral Foundation Stick is a small product that will do the whole job. NYX never compromises with quality. This time they have bought the professional makeup mineral stick which is a multipurpose stick and very much user-friendly.

Structure
Let's talk about the product description and product info. NYX professional makeup mineral stick that comes in a lipstick shape coating. It has a roll stick-like layout. Though it looks like lipstick it can actually use foundation, highlighter, and contouring. The stick has a heavy creamy structure which provides high coverage to the skin.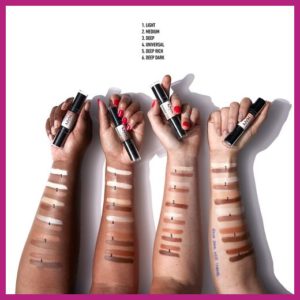 NYX Makeup Mineral Stick Shades
NYX professional makeup sticks actually come in 14 shades. Anyone of any skin color can easily find the shade that matches their skin color. That is the product anyone can go for it. There are a lot of girls who find it very difficult to match the perfect shade according to their skin. For this type of girl, a professional mineral stick is the best solution. Now any girl of any skin color can find the perfect shade for themselves.
How to use NYX Professional Makeup Mineral Stick
This stick is very much easy to apply. A small amount can give high coverage to the whole makeup. It can be blended with a foundation brush or fingertips or also you can use a sponge. All The application process is given below:
Take your professional makeup mineral stick
Apply it to your cheekbones, under the eye, above the eyebrow.  Apply it in such a way so that it covers all your dark spots, acne and acne scars
 Take a blending brush to blend the whole makeup. Someone might use a sponge for that
If someone feels difficulty blending the makeup then it is suggested to wet the brush or the sponge a bit then use it for blending
Now take some powder to give the finishing touch
You are done and ready to go.
This Star rating item model is the best cosmetic option to carry while traveling. Maintaining a proper makeup look while traveling is a difficult task. While traveling, one has to go through a lot of journeys. One has to carry a lot of stuff also with them. So it is really not easy to carry all the makeover or cosmetic products with oneself. This stick is the solution for them.
Now one does not have to carry a foundation, a contour, a highlighter. Rather they just have to take their makeup mineral stick with them and it will serve all the purpose.
This stick is the best option for working women. Working women have to deal with a lot of stuff on a daily basis. They have done a lot of work in their office. While doing all the work, women hardly find a chance to get a proper makeover for themselves. This stick is the perfect solvent for them that provides full coverage with a natural finish.
Now they do not have to carry all that heavy stuff with themselves. The only thing they have to do is buy a professional makeup mineral stick with them, which will serve multipurpose purposes.
When we talk about the quality of the product then we can confirm that NYX provides the best Beauty Products, Cosmetic products. And we are consulting you with this quality product as the product reviews are great. Most of the Reviewers started to use these NYX beauty items. So, you are always welcome to purchase this product!
Pros to look at
The foundation has heavy coverage. With its buildable structure, it covers the pores of the skin, hides the acne or acne scars, dark spots, etc. This NYX cosmetic is richly pigmented. The foundation will give a fine and refined look. It glows the skin. The creamy structure here will bring back the luminosity of the skin. It will remove the chalky or ashy vibe. This NYX Mineral Foundation Stick foundation will provide an elegant look and help the user stand out in the crowd. In a word, this is the modern-day foundation that holds supremacy and serves multipurpose to the user.
FAQ
Q. Is NYX professional makeup mineral stick costly?
Ans. No, it is not costly at all. It is user-friendly and very much economical. So any user of any buy it
Q. Does this stick serve multipurpose?
Ans. Yes, of course, this is a multipurpose stick that users can use as a foundation base, contouring, highlight lighting, etc.
Q. Is this cruelty free?
Ans. Yes, it is completely cruelty free. No animals were harmed for its production. Also, it was not tested on any animals. So all the people concerned about cruel products can easily use this product.
Q. Is it safe to use?
Ans. Yes, it is very much safe to use. No harmful ingredients are there to cause harm to people's skin. So, people can buy it without any worry.
Q. Does a dermatologist approve professional makeup mineral sticks?
Ans. Yes, of course. A lot of research was done by the NYX team to bring the best product for the customer or user. They have completely given their permission for its use.
Q. Can NYX Professional Makeup Mineral Sticks cause an allergy reaction?
Ans. No, there is a very low chance that it will cause an allergic reaction. But it is suggested that one do an allergy test to stay safe.
Q. Can Professional Mineral Makeup Stick applied to all types of skin?
Ans. Yes, obviously. This foundation was made in such a way so that it can match all types of skin. So no matter what your skin type is oily or dry you can use it. It will provide you with a refined matte finish.
Q. Is NYX makeup mineral strict worth the price?
Ans. Yes, it is a multipurpose product that will do full justice to users' money.