Makeup Forever Brush Sets
Are you performing at an event? Do you need a good makeup brush set? Just go and grab Makeup Forever Brush Sets. This article will introduce you to Makeup Forever Brush Sets Review.
MAKE UP FOR EVER is a professional cosmetic brand that offers goods for stage artists with the makeup and tools they need to change. MAKE UP FOR EVER was established in 1984 by Dany Sanz, a former Fine Arts student, to meet the unmet demands of makeup professionals. Dany proceeded by modifying the Fine Arts palette to a makeup palette. She started to make highly pigmented, excellent quality formulations, as well as unique tools and brushes.
In this article, we will share Makeup Forever Brush Sets that are the most favorite and star rating products for the customers. This makeup kit deserves to be in your daily beauty routine, we are telling you! Let's check out the excellent brush sets review.
Types of Makeup Brush
There are several types of makeup brush tools available in the cosmetics market. Among them, kabuki brushes, angled brush, shading brush, foundation brush, concealer brush/contour brush, eyeliner brush, lip brush, flat brush, bronzer brush, eyebrow brush, powder brush, defined crease brush, blurring brush, super comfortable fluffy shader brush/fluffy makeup brush and many more brush tools are available now.
Not only brush items. But also the makeup world is developing everything you desire to create the perfect makeup look. For a flawless face makeup application, they are selling the best quality brush tools at an affordable price, and also they have some luxurious quality makeup tools as well. Purchase according to your need. For these brushes, there are some popular brands that are selling some other amazing cosmetic kits like the brushes set cleaning tool.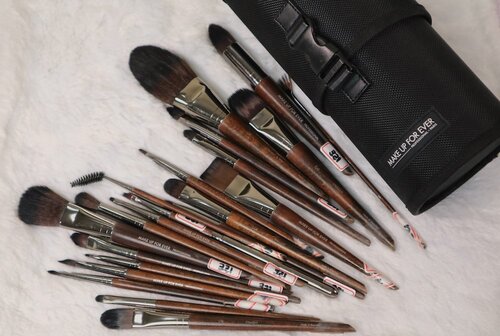 Make Up For Ever Brush Tools 
After studying on MAKE UP FOR EVER brand, we have found they have some amazing makeup tools and brushes. They have some best-quality single makeup brushes. You can check out Airbrush Finish Foundation Brush, Shader Brush, Powder Fan Brush, Flat Highlighter Brush, Buffer Blush Brush, Precision Shader Brush, Precision Crease Brush, Angled Shader Brush, Extra Fine Eyeliner Brush, And Kabuki Pro Bronze Fusion are good quality brushes you can buy from the MAKE UP FOR EVER.
Makeup forever brand also have Double-ended Sculpting Brush, Artistic Fan Brush, Sponge Applicator, Precision Foundation Brush, Foundation Brush, Highlighter Brush, Precision Corrector Brush, Flat Round Blush Brush, and Bent Eyeliner Brush tool. Almost every single tool is available in various sizes from small size to full-size makeup brush tools.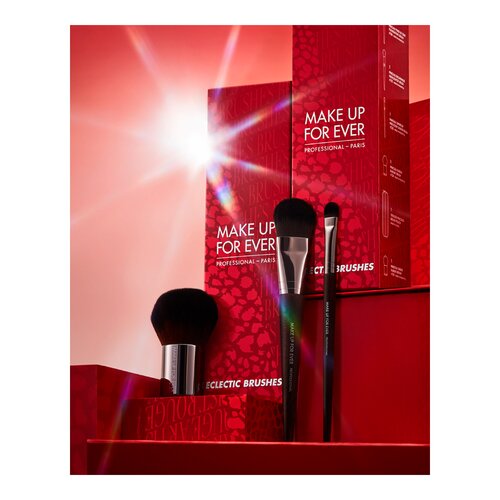 If you are tired of using your current makeup brush kit then make a change! Opt for Makeup Forever brush tool. But we have found one brush set by MAKE UP FOR EVER brand. We will review it now! We have found MAKE UP FOR EVER Professional Paris Eclectic Brush Set, the Metallic Palace Collection.
Discover the best-selling Make Up For Ever brushes in a limited edition during the upcoming Christmas time. This Eclectic Brushes tool includes four must-have brushes for both beginners and advanced people in the makeup industry. This brush set includes four essential brushes and also a limited-edition red bag. You can call it the best brush set ever!
Make Up Forever Brush Set Includes
This limited edition brush set includes:
Foundation Brush – Medium -106: A medium flat and rounded foundation brush and you can use them all over your face. check out the best face brush review
Powder Kabuki – 124: A thick kabuki brush with a dome shape for smooth and accurate application. This brush is ideal for brushing a finishing powder.
Highlighter Brush – Medium – 152: A medium rounded and heavy brush for highlighting the face and body.
Precision Shader Brush – Medium – 228: A thick, round-shaped brush for quick applying, blending, and smudging almost every type of makeup product.
Now let's talk about the application process and how to use these excellent brushes perfectly.
Foundation Brush – Medium – 106
This brush is used to apply and combine all types of foundation for the best and effective result that offers a higher item payoff than the brush 14.
Tips: It is an essential brush tool for professional makeup artists. This brush is ideal for pro makeup artists at shows and who are going to do makeup for models. The size and shape of the brush are perfect for big and quick application of foundation and blush.
Powder Kabubi – 124
Discount Offer Today!
Flat Top Kabuki Foundation Brush By KESHIMA - Premium Makeup Brush for Liquid, Cream, and Powder - Buffing, Blending, and Face Brush
SUPER DENSE makeup brush with flat head, perfect for buffing and blending.
EVEN, STREAK FREE & PATCH FREE APPLICATION – Achieve a flawless look every single time. Far superior to using a beauty sponge or blender.
HIGHEST QUALITY MATERIALS - Made with premium quality synthetic fibers - as soft as real hair, don't absorb foundation into the brush itself, and are easily cleaned.
NO SHEDDING - All KESHIMA brushes undergo a 7-step process during manufacture to prevent shedding.
THE PERFECT FOUNDATION BRUSH for all types of foundation: liquid, powder, mineral, and cream.
If you want to see a lightweight and flawless look, apply all powders properly and smoothly. This brush has a short, slim grip that allows for more effective and flawless application for flawless skin. This one is a pouch-friendly brush tool.
Tips: To create an exact and natural look, apply Face and Body to the body (arms, legs, etc.) in great smoothing motions. We have found professional makeup artists utilize this idea on music hall and cabaret performers.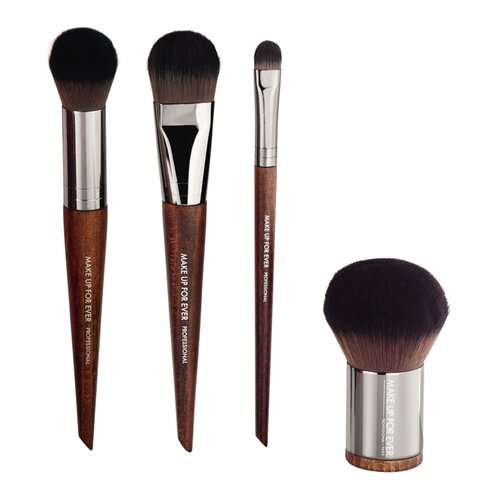 Highlighter Brush – Medium- 152
This brush is used to highlight the face and body in a modest and delicate way. Because of its form and soft fibers, it catches a lot of products for a moderate to high payout.
Tips: The rounded form and flexible fibers are used to combine Wet Make-Up for a smooth, perfect effect without flaking in professional makeup. Its structure is often utilized to swiftly and simply generate spherical designs.
Precision Shader Brush – Meidum – 228
This is the last brush tool you will find in this Make Up For Ever Brush Set. This brush tool's paddle shape and flexibility make it perfect for fast application, blend and smudging in a multitude of eye cosmetics. Use to get a smooth and dramatic look.
Tips: For a natural effect on the big screen, professional makeup artists working in movies choose the fineness of this brush to make extremely accurate and faultless makeup.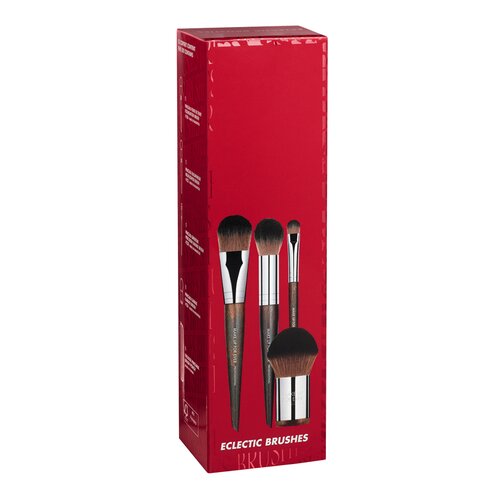 So we hope you love this review. We have shared everything about the Makeup For Ever Brush Set. This is one of the most iconic items by this brand. For the perfect and flawless finish, every single brush in this set is there for you! This is the most amazing tool ever by Makeup Forever brand. So if you are looking for a brush set for the makeup application then we highly suggest Make Up For Ever Brush Set. Create the best face makeup with this beauty!
Q. Which makeup brush set is the best?
Ans. The makeup artist's one of the most essential tools is the makeup brush. The makeup brush is the tool that helps you to get the perfect flawless look. To create the best look, you need to have a good brush tool for makeup. If you want to purchase a makeup brush set then check out our recommendations.
The makeup brush sets you can buy are BS-Mall Premium 14-Piece Brush Set, EcoTools Start The Day Beautifully Brush Set, Kimiko The Essential Brush Collection, EIGSHOW Jade Series 15-Piece Makeup Brush Kit, Tarte Cosmetics Goal Getters Contour Brush Set, Bestope Makeup Brush Set, Real Techniques Everyday Essentials, BH Cosmetics BH Signature Rose Gold Brush Set, Morphe Mua Life Brush Collection and Sigma Beauty Basic Eye Brush Set is the best 10 makeup brush kit you can buy for yourself.
Q. Are makeup brushes important?
Ans. Of course, makeup brushes are important when you do makeup. For a makeup lover, makeup brushes are the tool that can make your makeup perfect.
When you use high-quality brushes, your makeup looks better. The final appearance of your makeup is improved by using a good quality makeup brush. They make the application and blending quicker, creating a smoother, professional, and more alluring effect. In most cases, a brush tool is not required for makeup application. All of the brushes in a professional makeup artist's arsenal are seen backstage.
Q. What makeup brush is the most important?
Ans. Makeup brushes are good for the perfect look. There are plenty of makeup brushes available in the market but Foundation Kabuki Brush is the best tool for makeup.
After applying your primer, which you can do simply with your hands, rub it in like a moisturizer, it's time to apply your foundation. Finish the look with kabuki brushes for a smooth and even finish.
Q. Can you apply makeup without a brush?
Ans. Actually using a brush during makeup time helps to make you look more flawless. But yes, you can apply makeup on your skin without a brush. There are so many ideas you can follow to create makeup on your skin.
You can use a cotton ball or facial mist instead of using a makeup brush. But we highly recommend using a brush during makeup time. By using a brush, you can get a flawless look. And according to us, you can not create a set or mattify your makeup without using a brush, sponge, or powder puff.
Q. What are the main makeup brushes?
Ans. When you do makeup, you need a lot of makeup accessories in front of you. Makeup brushes are one of the important parts.
The main makeup brushes you need during the makeup time are blending sponge, bronzer brush or blush brush, highlighter brush, flat eyeshadow brush, eyeshadow crease brush, pencil brush, and eyebrow brush. They are the must need brush item to make the perfect makeup application and flawless appearance.