Lilly Lashes Miami Dupe
Lilly Lashes are super gorgeous 3D lashes also called luxurious lashes. Today we come up with Lilly Lashes Miami Dupe Review. Which is also known as celebrity lashes worn by Kylie Jenner, Kim Kardashian, Lady Gaga, Jennifer Lopez, and some other gorgeous models.
These luxurious quality popular lashes are own by Lilly Ghalichi. This Miami version has become so much popular product nowadays. That's why we are reviewing Lilly Lash Miami dupe.
These fantastic eyelashes creating hype on the internet as they are celebrity favorites and this Miami lash style already gets enough popularity. Lilly Lashes are also the most searched eyelashes, where particularly the "Miami" style Lilly Lash influenced the most! Believe us, There are lots of Lilly Lashes, they are amazing and worth the cost.

Lilly Lashes is a luxurious brand of fake eyelashes that come in different styles. They are the most demanding eyelash brand The "Miami" is promoted by James Charles and Kylie Jenner. These lashes, especially are lightweight and will give you loads of additional length and extra volume.
The Miami lashes are created from 3D Mink material, and they give the eyes a wispy and fuller effect. It extends and volumizes the natural lashes by weighing them down. The sticky band fits in perfectly with the natural lash line without appearing heavy.
This popular style of eyelash is really gorgeous. For comfortable wear, you can opt for Lilly Lashes Miami. We hope it will not harm your natural eye shape and you will love the "Miami" false eyelashes. Why we come up with Lilly Lash? Because they are a popular brand and they have all the good quality product in their wardrobe. For having a whole day of beauty you can pick Lilly Lash Miami.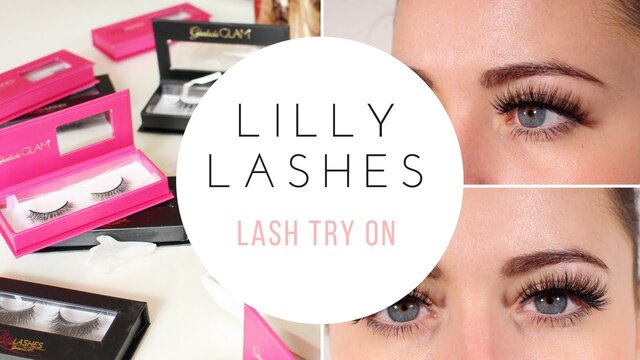 Lilly Lash Miami version comes with 3D Mink material with medium volume. You will get a round shape with full-body, fluttery and wispy effects. You can wear this up to 25 wears and the length is 16mm.
Then, Lilly Lashes So Extra Miami almost has the same features but a little difference with Lilly Lash Miami. It is 3D Mink Lash. It's a dramatic version of best-selling style "Miami" and it is Reusable for up to 25 Wears. If you try this Lilly Lash, you will get Full-Body, Fluttery, and Wispy effects. Also, for having a maximum volume with a round shape this 17mm lengthy eyelash can be your favorite lash.
Now let's talk about the Miami Lite version. This is a dramatic Lilly Lash. But you can wear this lite eyelash for everyday wear. It's long-lasting full and fluff 3D Mink Lashes. It fits perfectly in all sizes and shapes of eyes. Having a natural volume with soft, fluffy, and wispy features will 100% attract the eyelash lover. you will get a luxurious feeling when you put on this eyelash. This 15mm Lilly Lash Miami Lite can be used up to 15 wears.
No the last one we are reviewing is Lilly Lash Miami Flare in Faux Mink. Before we talk about this one let us tell you something. This one deserves to be on your favorite lash list. Why? Because This Lilly Lash Miami Flare Faux Mink is a 3D Faux Mink Lash that is ultra-wispy that enhances volume and length gradually. It's a 100% Vegan & Cruelty-Free, high-quality handmade eyelash. And you can use up to 20 wears.
How to Apply Lilly Lash Miami 
Before you purchase pairs of lashes, make sure you know the application process. Applying eyelashes is a little bit tricky. So we are giving you a complete guide about how to apply Lilly Lashes. Follow our simple steps to apply eyelashes properly.
The very first step is to prepare yourself and your look to apply the eyelashes. Curl your natural lashes first. Use your mascara before applying the Lilly Lash.
Now you can apply mascara to your pair of lashes in step two. But it's not necessary to use mascara. As you are wearing fake eyelashes so mascara is optional. Apply mascara for a more glamorous look.
In step three, set your lashes. This is a crucial step as it will determine your entire look.  Once you've selected the style, slowly pull the eyelashes from the tray and pull from the inner corner of each lash's band, then pull the whole of the lash off. Never grab or pull on the lashes directly; rather, clasp the eyelash band.
After removing the lashes from the tray, cut them to the size of your eyes in step four. Cut your lashes in a way that your fake lashes are longer than the natural ones. Cut the lashes from the inner corner.
Now the step five is here. Put the tiny coating of glue on each lash's band and dry them for 30 seconds. After that, put the first eyelash on top of the natural lash line. Make sure you give extra pressure to the inner and outer sides of the eyes. Because these are options for lifting.
Now comes step six. If you want to make it easier then you can use a lash applicator for easy application.
Now the seventh and last step is removing your Lilly Lash. Gently peel the strip away from the eyes. It's better to start it from the inner corner.

Now the taka care process! Store your Lilly Lash eyelashes in the Lilly Lash storage box. Also, to easily store and travel with multiple pairs,  place up to three pairs in the Lilly Lash storage case. Do not get your lashes wet or it may ruin them. If you want to clean them then gently brush your lashes with a clean mascara spooly. You can also gently remove leftover glue on the band of the lash with tweezers.
That's all about Lilly Lashes Miami Dupe Review. We are highly recommending you to try this brand of eyelashes for having a super luxurious look. We hope you will love the pair of lashes if you try once. There is no doubt that Lilly lashes are the most stunning of all. though they are expensive but these pairs of lashes will give you your desired look for sure.
Use Lilli Lash properly and see the magical beauty of the Miami versions. Lash lovers will definitely love the lightweight, high-quality lashes with wispy, enormous, and dimensional features! We can guarantee you that this is the perfect lash for every type of eye.
Q. Are Lilly Lashes worth the money?
Ans. Lilly Lashes are super gorgeous 3D lashes also known as luxurious lashes. Actually, they are worth the money.
Lash lovers will definitely love the lightweight, high-quality lashes with wispy, enormous, and dimensional features. You can reuse them more than 15 times. They are long-lasting, they provide good volume and they will give you a stunning look for sure.
Q. Which Lilly Lashes are the best?
Ans. Lilly Lashes are great. Every single lash products are super gorgeous. We are suggesting the best five Lillu Lash products that are the most popular among all.
The best Lilly Lash is  Miami. Which is the most iconic Lilly Lashes style. It's popular because it is lightweight 3D mink style Miami eyelashes. Then the Goddess is another best lash for having a slightly soft look. Also, Mykonos, Luxe, and Opulence are the best lashes by the Lilly Lashes brand.
Q. Which Lilly Lashes are the most natural?
Ans. All the Lilly Lashes are good but the most natural is Lite Mink Diamonds lash. This natural style lash will give you a beautiful eye look.
The round shape of the brand lashes will give your natural lashes a delicate length and fullness. They are ideal for any eye shape. The mink fibers on the ultra-thin band make it perfect for all-day comfort and they are extremely genuine lashes. You can use them up to 15 times.
Q. What are the best Lilly Lashes products?
Ans. We have found some best-selling Lilly Lashes products that are the most influential on the internet. We are suggesting the names of those products that are the best items of the Lilly Lashes brand.
The best one is Miami which is a $30.00, 4.9-star rating, and 5968 Reviews. Then the Mykonos which is $30.00. 4.9-star rating with 2226 Reviews, Goddess which is $20.00. 4.9-star rating 2183 Reviews, Diamonds which is $20.00. 4.9-star rating 839 Reviews, "So Extra" Miami which is $30.00, 4.9-star rating, and 779 Reviews, "So Extra" Mykonos which is $30.00, 4.9-star rating, and 483 Reviews, then the Luxe is $20.00 and Hollywood that is $30.00.
Q. What are the best lashes?
Ans. We are recommending the best eyelashes on the internet. They are customers' favorite false eyelashes that give a perfect look.
So the best eyelashes are LILLY LASHES Lilly Lashes 3D Mink, Ardell Lash Natural 174, DYSILK 3 Pairs 6D Faux Mink Eyelashes Wispy, VELOUR LASHES Effortless – No Trim – Natural Lash Collection, Camara Aunique June Lashes, Dark Swan of Denmark Honey Lashes, MAC 33 Lash False Lashes and the Dolly Wink Koji Eyelash is also amazing.