Punky Color Cotton Candy
Hair coloring, often known as hair dyeing, is the process of changing the color of one's hair. If you want to transform your look then hair coloring can be a good option. Today the article will share Jerome Russell Semi-Permanent Punky Colour Cotton Candy Review.
This is an excellent color. Most of the time we try brown, red, blonde, or may be some other color. But few are excited about cotton candy color. That's why we will highlight the beauty of cotton candy hair color.
Punky Color is a rich semi-permanent hair color cream that nourishes your hair for a smooth, silky, and conditioned finish. We'll give you the complete detail on the Punky Color Cotton Candy.  And we can ensure you that this cream is simply fantastic. With this cotton candy, You will be an eye-candy with this cotton candy! Let's review the product!
Punky Color Cotton Candy by Jerome Russell is an original outrageous color with a star rating that looks fantastic on bleached hair or dark hair or chemically treated hair. In the hair color industry. Punky Colour is a high-quality, cruelty-free hair color that originated in London's counterculture punk scene. Get punked with 23 unique shades of punky color! An original conditioning semi-permanent hair color in front of you! On darker hair, these punky color shades create an excellent highlight effect.
It's a semi-permanent conditioning hair color which is a lovely pastel shade. Cotton Candy Semi-Permanent Conditioning Hair Color is a charming pale pink color that will change and condition your hair for a smooth and soft new look. Make a hairstyle that is ultra-feminine! And Punky Color is one of the best ones for having that look.

Now let's talk about the conditions and its non-damaging hair features. As the product is made without using peroxide, so the hair color is best for all hair types. This will moisturize strands, eliminate damage, and over-drying. It also makes the hair silky smooth and looks healthy. It's better to pick a good hair color like Punky Color Cotton Candy.
The Jerome Russell Punky Colour is a long-Lasting & vibrant hair color. It contains a color-enhancing Keratin Complex for a more strong, vibrant color that lasts for a long time. It vanishes in up to 35 shampoos. It allows you to try new colors and styles, to create multi-tonal hair, rainbow, or holographic shades, mix & match as well. Create multi-tonal hair, rainbow, or holographic shades, mix & match as well with this hair color product.
It's an easy-to-apply product. Simply use a tinting brush to apply the color properly from the hair roots to the ends of the hair, comb it, and wait for 15-30 minutes before rinsing. And you are done! Now, do the hairstyle you want after using the Jerome Russell Punky Colour Semi-Permanent Hair color.
So if we talk about more directions then start by shampooing your hair and then dry it. Around the hairline and around the ears, use petroleum jelly or baby oil. You should use rubber gloves. Use the Jerome Russell tint brush, apply color evenly from hair roots to ends. Comb your hair. Apply to dry hair, bleach hair first, and don't condition for optimum results.
The Jerome Russel Punky Hair color is actually an intense hair coloring cream. It's a 3.5oz hair color product. It is a cruelty-free and vegan product that is made in the USA. We believe this cotton candy shade is cute. If you are a newcomer to the Punky color world then you can check their other hues as they are also beautiful.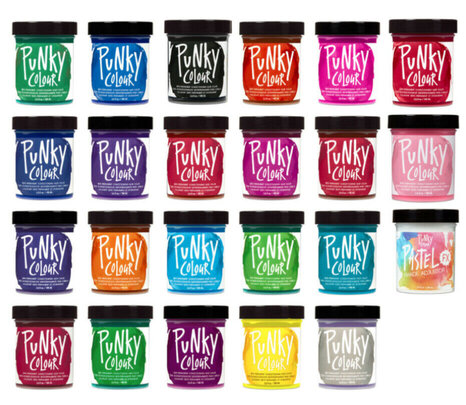 Their other shades are Alpine Green, Apple Green, Atlantic Blue, Bright Yellow, Cherry On Drop, Ebony, Fire, Flame, Flamingo Pink, Lagoon Blue, Midnight Blue, Platinum Blonde Toner, Plum, Poppy Red, Punky PastelFX Shade Adjustor, Purple, Red Wine, Rose Red, Spring Green, Turquoise, Vermillion Red and the Violet one is also beautiful.
That's all about Jerome Russell Semi-Permanent Punky Colour Cotton Candy Review. We have faith that Punky color shades are really excellent. If you want something new after using the same hair colors then you can try this long-lasting semi-permanent hair dye. This pastel pink shade is really attractive.
There are lots of trendy colors and this cotton candy pink is one of them. So if you want to try a fashionable hair color then we recommend you try this one once. There is no risk of using the color and this is the color without hair damage. Good luck with your upcoming hair coloring. We hope you will try this Punky Color Cotton Candy shade someday.
Q. What is the best hair color?
Ans. There are lots of hair coloring brands available in the market. But not every hair dying products provide a good appearance after dying the hair. So one should purchase a good quality hair color which is good in performance as well as not damages your hair.
If you are interested in dying your hair at home then you can check Garnier Olia Permanent Hair Color, L'Oréal Paris Excellence Creme Hair Color, Clairol Natural Instincts Semi-Permanent Hair Color, Wella Colorcharm Liquid Hair Color, Clairol Nice 'n Easy Root Touch-Up, dpHue Color Boosting Gloss + Deep Conditioning Treatment, Rita Hazan Root Concealer Touch-Up Spray, Oribe Airbrush Root Touch-Up Spray, Revlon Colorsilk Beautiful Color, Dark and Lovely Fade Resist, Garnier Nutrisse Nourishing Color Creme, Madison Reed Radiant Hair Color Kit, Revlon Total Color Permanent Hair Color, and L'Oreal Paris Superior Preference Permanent Hair Color. They are the best hair color you can buy online or from any hair products market.
Q. What is the best pink hair dye?
Ans. Pink is the color of universal love. Pink hair coloring is a unique idea. Not everyone will love the color but it's actually beautiful. So if you want to dye your hair pink then we are suggesting few pink hair dye products that are best.
So the best pink hair dying products you can buy are Arctic Fox Semi-Permanent Hair Color in Virgin Pink, Sephora Collection Semi-Permanent Hair Color in Psychic Pink, L'Oréal Paris Colorista 1-Day Temporary Hair Color Spray in Rose Gold, Overtone Daily Conditioner and Coloring Conditioner, Moroccanoil Color Depositing Mask in Rose Gold, Manic Panic Classic High Voltage in Cotton Candy Pink, Kristin Ess Rose Gold Temporary Tint, and Good Dye Young Semi-Permanent Hair Color in Ex Girl.
Except for mentioned names you can also check Keracolor Clenditioner Color Depositing Conditioner Colorwash in Rose Gold, L'Oréal Paris Feria Multi-Faceted Shimmering Permanent Hair Color in Smokey Pink, Wella Color Charm Paints in Light Pink, Garnier Nutrisse Nourishing Hair Color Creme in Strawberry Jam, Rusk Deepshine Direct Ready-to-Use Cream Color in Pink, Schwarzkopf BloneMe Instant Blush Blonde Beautifier, and also Celeb Luxury Viral Colorwash in Pastel Light Pink color is also great for pink hair coloring.
Q. Can I mix the punky color with conditioner?
Ans. Actually, before we buy a hair color product, we should know the application process. Because if we are experts doing hair coloring then we will be enough knowledgeable about the hair color products. We can tell whether you can mix the color with the conditioner or not.
Before applying you have to be sure that it will cover all of your hair., you don't want to have to change your hair halfway during the applying time. Begin by adding a small quantity of your bright color into the conditioner. To view the actual pastel finish, thoroughly mix it up.
Q. How do you use cotton candy punky color?
Ans. Using cotton candy punky color is not a hard task. you have to follow few steps to complete the hair coloring task.
Let's share how to use cotton candy punky color. The first thing you have to do is shampoo hair and dry it. Then use petroleum jelly or baby oil around the hairline and on the ears. After that, use rubber gloves and apply color evenly from hair roots to ends with a tinting brush. And finally, comb through, leave for approximately 15-30 minutes and then rinse out. You are done!
Q. Which hair Colour brand is the best and harmless?
Ans. When we pick a hair color product, we should be aware of choosing them. You should buy a hair color brand which is best and does not damage and is completely harmless. We have created a list of the best and harmless hair color brands that you should check.
We are suggesting the best ammonia-free, harmless hair color products that you can buy for a good result after dying your hair. So the best hair colors are  L'Oreal Paris Casting Crème Gloss, Garnier Olia Brilliant Color, BBLUNT Salon Secret High Shine Creme Hair Colour, Revlon Top Speed Hair Color, Clairol Natural Instincts Hair Color, BSY Noni Black Hair Magic, Biotique Bio Herbcolor 3N Darkest Brown, Indus Valley Organically Natural Gel Hair Color, Godrej Expert Rich Crème Hair Colour, Shahnaz Husain Colourveda Natural Hair Colour, and Beaute Blanc Fruit Vinegar Black Gel Color.