Have you ever heard the news that brunette women are naturally and born smart? Well, it is a myth or not I will leave that simply up to you. All I am wanting to say is that don't you feel that girls with long brown hair are so awesome looking? They look naturally flawless, elegant, really attractive.
Brown color is the color of chocolate, coffee, cocoa, etc. All these are a girl's best friends. I mean literally. Show me a girl who hates these products. At least 98% or so die for these products. So, can a girl totally ignore the idea of their precious hair having the color of these addictive products? If you ask me, then I am going to answer confidently. "Oh! hell no!"
There are millions of brown hair color shades available. Each one of them are rich, vibrant, beautiful, exotic, and very posh. All my life I could not decide which brown hair color should my natural black hair wear. I guess many of you face the same problem as me.
Well, I have matured enough, did a lot of research, and came with some of the very best chocolate brown hair color shades out of millions that will make your hair beautiful, rise and shine, and classy. That is the main motto of the article. Let's have a look at the Girls with Long Brown Hair Ideas
1. Smooth Chocolate
If you have dark and straight hair, then this color is perfect for you. Little bit ombre with rich chocolate color makes the hair look stylish with amazing sunny golden highlights. It makes the hair look full and voluminous. It is indeed a beautiful looking hair color with a gorgeous straight haircut. 
2. Mocha with highlights Hair Color Ideas
If your skin tone is fair, then this is the perfect hair color shade for you. Many fair skinned people struggle to find the right shade of chocolate brown hair color. The main blends of mocha chocolate brown hair color with highlights are ice – blonde highlights with milk chocolate brown which makes the stunning shade we call mocha with highlights. It is for warm and fair skin tones.
** Point to be noted – While selecting the perfect highlights for your precious hair, make sure that they are not thick.
3. Molten Caramel Styling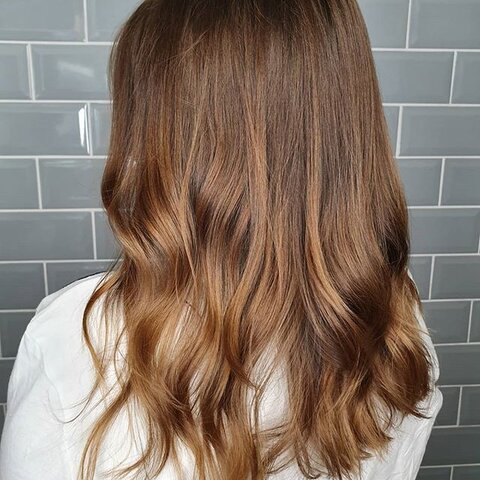 This stunning hair color is a quite similar shade to rich chocolate brown. It will look marvelous on fair skins with warm tones. And it will look extremely dazzling on those who have eye colors such as brown or hazel. What a perfect combo! The balayage that has been highlighted in the middle has completed the look amazingly. This was the final touch of this hair color if I am being honest. Without the mid-length balayage, this hair color would have been incomplete.
4. Cherry Ripe Styling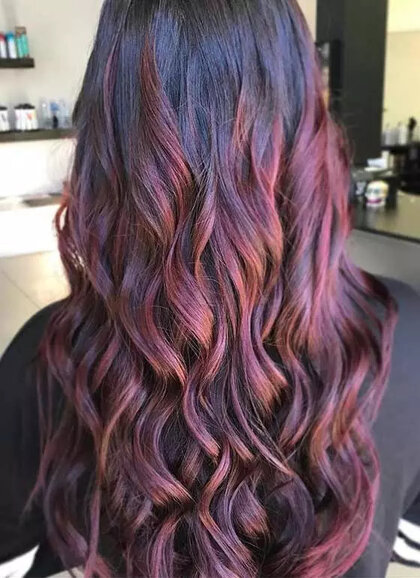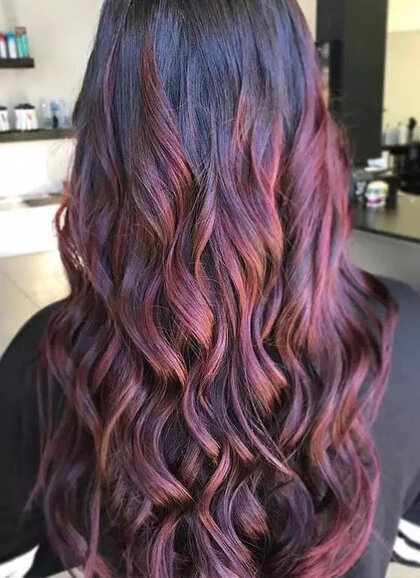 Okay! Isn't this color super duper exotic? What will people call you a brunette or a redhead? I mean they can call you both!! Come on girl just spice up your curly hair game. This mixture of chocolate and cherry makes an exotic combo and look 'Oh! So Stunning!'. This shade is perfect for both warm and cool skin tones which is a major plus point.
5. Dimensional Brunette Hair Color for Girl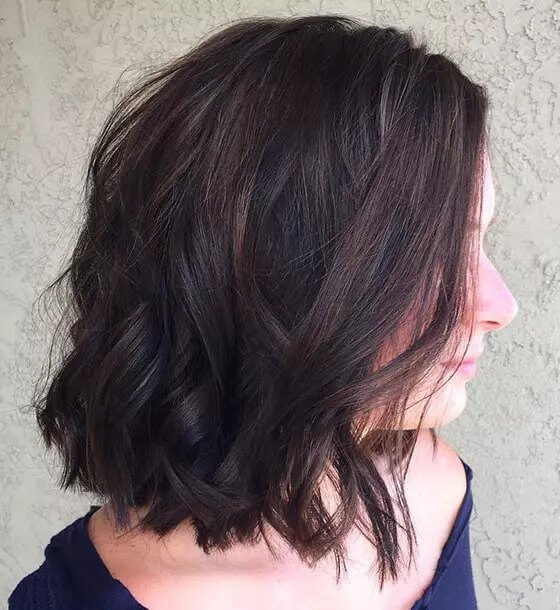 This hair color is trendy, smart and very cool. The full chocolate brown hair color gives a shining glow to your hair and makes it look naturally beautiful. It has beachy waves which make the hair look attractive. Extremely fashion oriented and will look great in winter if you are trying to look fashionable and classy in winter. The Major plus point is it literally suits all types of complexions.
6. Chocolate with Cinnamon Cute Hairstyle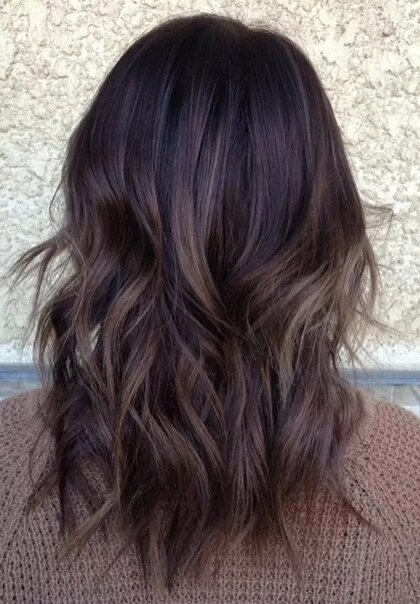 This is one of the greatest hair color choices for women who have cool undertones. Chocolate with Cinnamon hair color is a blend of dark natural brown hair with light cinnamon hair color. Together, these two make rich, glossy, and really eye-catching hair color.
7. Smooth Dark Chocolate Hair Color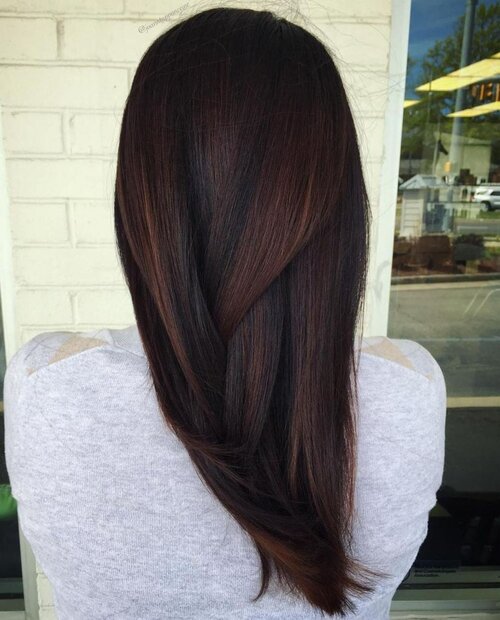 This is one of the popular chocolate brown hair colors because it is very easy to maintain. It is single-layered but it is very classy and sophisticated looking. It looks great on corporate women with busy lifestyles. Brown hairstyles are a great choice for women who have warm or olive skin tones with brown eyes.
8. Rich Caramel Twists Hair 
The first thing that comes to my mind when I look at the above picture is burnt caramel sauce. The shades of red with dark chocolate brown color made this whole hair color look super elegant and classy. Imagine how many heads you will turn if you are wearing an electric blue or an emerald green ball gown at a party with this hair color. I am already fanning the whole idea. This will look great on all skin tones, but, this will look fantastic on olive skin tones with hazel eyes.
9. Cocoa Goodness
I bet you are looking at the Hershey's Jar in the picture. Same with me girl. Just imagine you had a dream. In the dream, you saw that you have millions of Hershey's jars reserved just for you. Oh my God! Isn't that the yummiest dream a girl can think off?
Now, you wake up from your dream, and look in the mirror, and find out that your hair looks exactly the Hershey cocoa that you ate. Well, you really are thinking of doing this right? Let's wait for Hershey's offers so that we can buy not millions, but at least so many jars to count. But in the meantime, you can try this hair color and feel like a Hershey's queen. And, if you have olive skin tone, then BOOM! You are the ultimate Hershey's queen.
10. Piecey Balayage Hair Color
This is the ultimate craze for people with cool undertones. This hair color is different from other balayage highlights because it does not go properly with light hair colors. Therefore, if you decide to go for piecey balayage, then go for thicker ones. This hair color would look stunning with unique eye colors.
11. Milk Chocolate Swirl
This hair color represents delicateness, tenderness, style, class, romantic, sophistication, and what not. Don't you want all these adjectives to carry with you? Looks like you can do that simply by coloring your hair into a milk chocolate swirl. It is a mixture of chocolate brown and smooth creamy blonde in the gorgeous balayage style.
If you have a cool skin tone, I just cannot imagine how gorgeous you will look. If you want to spice up the look, I suggest wearing jewel-toned lenses. Wow! You will be titled Miss Perfectionist.
Above, I have mentioned the top 11 amazing chocolate brown hair shades that you can try. If you talk about brown hair color shades, then your pages will finish but your list will not. Of course, you can look for more options, and try them out. But according to me, these 11 are so good to ignore. Go through the article, check the colors and their features carefully, match with your requirements, and choose your favorite. Hope this article was helpful for you.
Q/A Sessions –
Which hair colors go great with cool undertones?
For cool undertones go for, Gold, Caramel. Amber, Honey, Butterscotch, Golden Brown, Mahogany, Cinnamon, Dark Mocha, Brown -Black, Deep Black.
Which hair colors go great with warm undertones?
For warm undertones, Platinum, Ice, Silver, Ash brown, Sand, Beige, Champagne, Dark Chocolate, Dark Auburn, Chestnut, Mocha, Caramel, Golden Brown, Butterscotch.