ELF BB Cream Review
Previously we have reviewed some other brands of BB cream. Today we will share Elf Studio BB Cream SPF 20 Review which is another top-class product by e.l.f cosmetics. We always want better-looking skin without feeling anything on the skin.
BB cream is the best option that will offer your desired look. If you always prefer applying foundation, you will appreciate the natural look more and more. Elf BB Cream is a product that has received a lot of great feedback. So you can purchase one!
Basically, e.l.f products are phthalates, parabens, nonylphenol ethoxylates, triclosan, triclocarban, and hydroquinone-free. They are also free from sulfate and of course, this is a vegan product and cruelty-free product. Today's product is a super BB cream which is a wonderful product and today we will reveal it! Let's read the whole article and get a complete review on E.L.F Studio BB Cream SPF 20.
e.l.f. BB Cream SPF 20, Color Correcting & Medium Coverage, Hydrating Formula, Dark, 0.96 Fl Oz (28mL)
SPF 20 PROTECTION: Our BB Cream foundation blends super easily, giving you a clean complexion with UVA/UVB SPF 20 protection.
ALL DAY HYDRATION: Our cream is formulated with skin-loving ingredients so your skin stays healthy and hydrated all day long.
NOURISHING AGENTS: The BB Cream with SPF 20 is infused with skin-loving ingredients such as Cucumber, Aloe, Jojoba and Vitamin E.
SKIN-LOVING INGREDIENTS: All e.l.f. products are made from skin-loving ingredients you want, minus the toxins you don't—all at good-for-you prices. All e.l.f. products are 100% cruelty-free and Vegan.
So if you are new here then let us tell you what is a BB cream actually! A BB cream, also known as an Age Defense BB (Beauty Balm) Cream, offers SPF protection, antioxidants for prevention, and moderate coverage to cover flaws and blemishes. It's also considered a good primer. So you can use them as your primer.
Use your BB cream as the finishing touch for foundations, concealers, moisturizers, and other makeup products. They are called a multi-purpose product that helps to reduce a variety of skin troubles by their active essential elements. And they will definitely keep your beauty on point.
So E.L.F Studio BB Cream SPF 20 is an excellent cream that is perfect for every skin type. Whether you have normal skin types, oily skin types, dry skin types, combination skin types, sensitive skin types, or any other type of skin, this BB cream can be the best option standing near you. As far as we know, this product will provide light to medium coverage.
As we know Elf is a brand popular for its high-quality products and affordable price. This product comes at an affordable price. What you will find in the cream? It's a tinted moisturizer SPF BB foundation cream with UVA/UVB SPF 20 protection that offers even and natural-looking coverage. For having a flawless skin look that will be natural and weightless, you can use ELF BB Cream. We have found that this BB cream is very blendable with the SPF 20 to provide you the sun protection but not natural sun protection.
The product is formulated to offer healthy and good skin. It's a beautiful BB cream which is hydrating, with anti-aging features. This BB cream comes in 6 different shades as it is very much sheer that will cover all types of skin tones. These color options are enough to provide the best look but still, we expect more from them.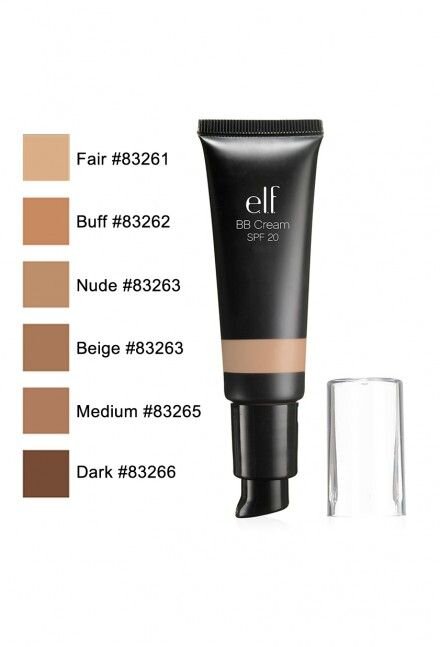 Let's check out the product details. The package is the first thing that everyone observes. ELF brand is noted for its minimalist design, and this ELF BB cream is no exception! The cream product comes with a black tube. This is a convenient tube that contains 1.06oz of product. The foundation shade is represented by a line on the box, which is black with white lettering.
Discount Offer Today!
e.l.f. Camo CC Cream, Color Correcting Medium-To-Full Coverage Foundation with SPF 30, Medium 330 W, 1.05 Oz (30g)
CAMO CC CREAM: Ditch your basic foundation! Camo CC Cream is a medium-to-full coverage color correcting foundation formulated with SPF 30 to protect against sun damage and hydrating, youth-boosting ingredients.
MULTITASKING DREAM CREAM: Camo CC Cream helps you achieve a flawless, airbrushed finish while key ingredients provide skin care benefits that improve skin texture and tone.
HYDRATING FORMULA: Infused with Hyaluronic Acid to help hydrate and lock in moisture for a plumped up complexion, while Peptides and Niacinamide help to even out skin tone and give you a more refreshed complexion.
SPF30 SUN PROTECTION: Formulated with SPF30 to protect against sun damage, while giving you a flawless, shine free finish.
SKIN-LOVING INGREDIENTS: All e.l.f. products are made from skin-loving ingredients you want, minus the toxins you don't—all at good-for-you prices. All e.l.f. products are 100% cruelty-free and Vegan.
Since the liquid is pumped out, it is extremely hygienic and less unsightly than some other Elf products with ordinary lids. The thing you will love is, this product is affordable than any other BB cream. Sometimes The pump might be trapped in the transparent plastic cover if it is too weak. Rather than using the pump, you can pour the product into your hand.
Then you will notice that it has an intense men's perfume-type scent. The lotion is heavy enough to conceal so many imperfections. The sheer feature will provide a shine also. This will provide your skin with a more natural appearance and you will get a cakey feeling. This cream does not highlight dry spots or flaky areas on your skin. This creamy product is rather than being glowy or matte, dries with a satin look. It will brighten your skin without concealing or changing the tone of your face.
Elf BB Cream is a long-lasting foundation. For example, after three to four hours, the blemishes and under-eye circles will be visible, but we have tested it without using any foundation and concealer. We hope they will last for the whole day if you use a setting powder. But this is sure that, they will at least last for six hours this way.
So we hope that This BB cream will conceal most of your facial flaws, but don't forget that the product is very sheer. You will feel that the cream is making your face better and more youthful. Use concealer if you really need to conceal dark circles, blemishes, or any red marks. With matte setting powder or concealer, you will get the best outcome.

If we talk about the key ingredient list of this cream, then you will see that this E.L.F Studio Tinted Moisturizer Cream is enriched with Aloe, Cucumber, Vitamin E, and Jojoba. Cucumber Extract will calm your skin & reduces puffiness, Aloe Vera will soothe and provide anti-inflammatory benefits, Jojoba Oil that locks in moisture, and Vitamin E that nourishes & softens skin. They are the reason that you will get enough skin hydration. It has SPF 20 but will not work as sun protection. This BB Cream product isn't fully organic because it contains chemicals like Ethylhexyl Salicylate, Titanium Dioxide, and Cinoxate.
So overall if we conclude the article, we can ensure you that this ELF Vegan BB Cream is the best creamy product if you are looking for perfection on the skin, natural coverage, UVA/UVB SPF 20 protection, and if you are looking for perfectly blendable foundation cream then you are highly recommended for this one! Keep your skin looking healthy and moisturized throughout the day with this BB cream.
This wonderful affordable product is available at Amazon. If you check out reviews you will see makeup artists are also suggesting this BB cream. Because their performance is good and every single shade is the perfect shade for any type of skin. No worries, E.L.F BB Cream SPF will never make you upset with their result. We hope you get everything about the product now. So what are you waiting for? Let's go to the makeup shop and purchase your ones!
Q. What is a BB cream?
Discount Offer Today!
Ans. BB cream is a versatile type of cream. A BB cream, also known as an Age Defense BB (Beauty Balm) Cream, offers SPF protection, antioxidants for prevention, and moderate coverage to cover flaws and blemishes. It's also considered a good primer.
A better-quality BB cream is beneficial for all types of skin. They are, without a doubt, good for your skin. Based on our study, concealer, foundation, BB creams, and other skin enhancers can last anywhere from two to four years, according to the formulation. If you have dry or normal skin, apply a moisturizer before applying your BB cream. As a result, BB cream is a wonderful skin care product to buy.
Q. What is the best BB cream?
Discount Offer Today!
L'Oréal Paris Makeup Magic Skin Beautifier BB Cream Tinted Moisturizer, Medium, 1 fl oz, 1 Count
Multi-tasking BB Cream primes to smooth skin's texture and corrects skin for a healthy-looking even complexion while hydrating for all-day moisture and hiding imperfections
With Color Transforming Pigments: Formulated with Beautifying Beads, encapsulated, color-transforming pigments that counteract redness and transform to a universal shade to reduce the look of redness
Universal Formula For All Skin Tones: This skin beautifier instantly matches your skin and transforms to your perfect shade for a flawless, bare skin finish, making it perfect for all skin tones
The Foundation of Your Look: From BB creams to blush, L'Oréal face makeup has everything you need; Highlight to illuminate your look, use concealer to hide imperfections or apply contouring makeup for enhanced, defined features
L'Oreal Paris Beauty: A leading total beauty care company based in Paris, we offer innovative products and unique expertise from beauty experts in makeup, skin care, hair care, styling and hair color
Ans. BB cream is good for your skin if you can use them properly. We are sharing the best BB cream you can buy for your skin care.
The best overall BB cream you can purchase is Maybelline New York Dream BB Fresh Cream which is a product formulated of 70% water, creamy, gel-like texture that leaves skin feeling fresh all day. Then you can also try e.l.f. Cosmetics BB Cream Foundation with SPF 20 and this BB cream contains skin-soothing items that make skin look perfect, Then another naturally oil-free, lightweight, rich in antioxidants product is one is Burt's Bees BB Cream.
You can also purchase Missha Perfect Cover BB Cream, Jane Iredale Glow Time Mineral BB Cream, Garnier SkinActive 5-in-1 Miracle Perfector BB Cream, Tarte Amazonian Clay BB Tinted Moisturizer Broad Spectrum SPF 20, Dr. Jart+ Premium BB Beauty Balm SPF 45, Neutrogena Healthy Skin Anti-Aging Perfector, and Smashbox Camera Ready BB Cream SPF 35 is another good BB cream you will ever see.
Q. Which BB cream is the best for combination skin?
Discount Offer Today!
Ans. Combination skin is considered as having oily skin in certain places and dry skin in others of your face. For anyone with combination skin, we've created a list of the finest BB creams for combination skin. Let's take a closer look at the best 10 BB cream names.
The best 10  BB Creams For Combination Skin are Purlisse Perfect Glow BB Cream, Garnier Skinactive BB Cream, Skin79 Super+ Beblesh Balm, Covergirl CG Smoothers BB Cream, Maybelline New York Dream Fresh BB Cream, Garnier Pure Active BBCream, Troiareuke Aesthetic BB Cream A+ Formula, Pupa Professionals BBCream + Primer, Lifecell BB Cream, and La Roche Posay Effaclar BB Blur.
Q. Can I use BB cream as concealer?
Erborian BB Cream with Ginseng, Fair (Clair) - Lightweight Buildable Coverage with SPF 20 & Ultra-Soft Matte Finish Minimizes Pores, Blemishes & Imperfections - Korean Face Makeup & Skincare - 1.5 Oz
Erborian BB Cream Clair: The true secret of Korean skin perfection, BB Cream has smoothing properties of Ginseng with medium, buildable coverage. Your complexion results in a velvety, ultra-soft matte finish. It gives you all the moisturizing, nourishing benefits of skincare balanced with perfecting makeup, for your most flawless complexion yet! Formulated with SPF 20 to help protect your skin from sun damage. Clair is the best shade for fair skin tones. 1.5 oz.
Specialty Ingredients: Our White Ginseng Complex combines white ginseng with licorice, wild yam, horsetail plant and Kigelia to smooth and moisturize your skin. All ingredients are carefully tested for both instant visible results and long-term care.
Korean Know-How: With Korean beauty ideals in our DNA, our products are formulated with the best of tradition and technology. Unique and majorly beneficial ingredients meet hybrid and multitasking formulas, delivering instant gratification and long-term benefits in easy-to-use products.
What's Inside Matters: Erborian products are tested on real people for real results and never ever tested on animals. We also formulate our products to leave out the nasties. No gluten, sulfates, parabens, formaldehydes or forama-releasing agents, phthalates, oxybenzone, or coal tar.
Skincentric With a Beauty Focus: We know the key to complexion confidence comes from both instant results and long-term care. Erborian aims to bring you unique and easy to use products that promise to always put you and your skin first.
Ans. Yes, you can use BB cream as a concealer because BB cream is a multipurpose cream. You can use them as the finishing touch for foundations, concealers, moisturizers, and other makeup products.
They are called a multi-purpose product that helps to reduce a variety of skin troubles by their active essential elements. You can use BB cream as a concealer but using a concealer is more recommended. A BB cream is more likely to slide down your eyelids than a concealer, and it's a bit too heavy. BB cream is an excellent alternative to foundation because it doesn't affect acne while still providing coverage.
Q. In what order should you put your makeup on?
Ans. When you do your makeup, you should have few items to complete your face look. If you need to know the correct order to put makeup items hen check out the things we are sharing.
In order to put your makeup on In step one you will need Primer & Color Corrector, then Foundation, Concealer, Blush, Bronzer, & Highlighter, Eyeshadow, Eyeliner, & Mascara, Eyebrows, Lipstick/Lip color, and Setting Spray or Powder. They are the essential items to make the perfect look. If you want a natural finish, matte finish, or satin finish try to pick the right makeup cosmetics item that can create these looks.