ELF Daily Brush Cleaner
e.l.f. the cosmetics brand is one of the most trusted American brands in the world. Today's article will share ELF Daily Brush Cleaner Review. They sell professional quality makeup and skincare products and all the products are vegan and cruelty-free.
They contain a range of skin-care items and bath accessories as well as water-based makeup, professional tools, eyeliners, lipstick, glosses, blushes, bronzers, and mascara items. These products are inexpensive and they are worth trying.
e.l.f. Daily Brush Cleaner is also a lovely product. After completing this review, you will get to know why we are calling this brush cleaner a lovely one. So when you have e.l.f. brush collections then you should have a brush cleaner as well. And today's recommendation can be the best choice as a Daily Brush Cleaner. Read the article to see a complete review on E.L.F.  Daily Brush Cleaner.
The Daily Brush Cleaner by e.l.f. is an anti-bacterial brush cleanser that cleans brushes completely in between clean application/soft application of makeup. It assists in brush cleansing for a fresh and flawless-looking application as well as works for brush longevity. The elf Daily Brush Cleaner is a daily brush cleaner that removes dirt, oil, makeup, and debris while also conditioning the brush fibers for optimal makeup application. It has a new and enhanced leak-proof design for comfortable on-the-go travel. Your brushes will be disinfected when using this clear spray applicator.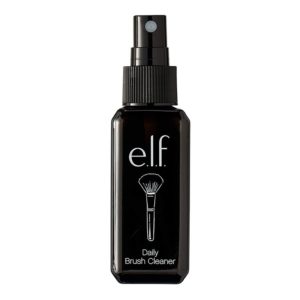 It's a China product designed in America. Both natural and synthetic brushes can be used with this product. Purchase the E.L.F Daily Brush Cleaner if you want a quick cleaning on your brushes in between washings. E.L.F Daily Brush Cleaner is a great way to keep your makeup brushes fresh. The product details say this E.L.F. cosmetics clean makeup brushes item is available at an affordable price. The brush cleanser product dimension is 1.4 x 1.75 x 5.25 inches, the item weight is 0.02 Pounds and the item model is 85013.
If we talk about the usage then you just have to spray the cleaner several times over the brush bristles. To remove makeup, gently wipe the brush with a clean cloth. You can simply use a paper towel or a hand towel. Allow the brush to air dry thoroughly and use again. Repeat on a daily basis or when requires. For maximum results, wash your brushes once a week with the e.l.f. Studio Brush Shampoo. This product is exclusively designed for external use. If symptoms of irritation or discomfort happen, stop using it. And one more thing is to keep it out of children's reach.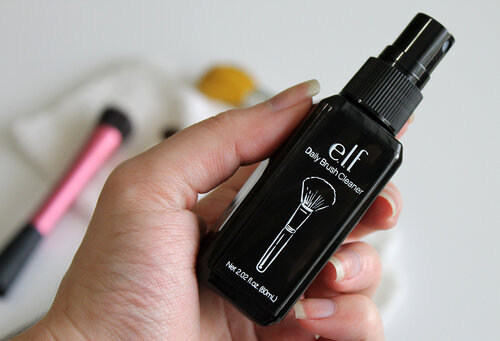 Another important thing about every single product is the ingredient list. Which is necessary to expose in front of the customers to know how the product is made. This excellent star rating makeup brush cleaner contains Alcohol Denat., Water (Aqua), Fragrance (Parfum). In the cosmetics market, you will get lots of lasting brushes cleaner but according to us, this is one of a good one. Another thing is there is no animal testing on this product. So it's safe and vegan. So, if we talk about this brush cleanser product description shortly, we can say:
In between makeup applications, it will give a  quick cleaning
Brushes are disinfected to provide a clean and fresh application each time
Helps your brushes to last longer and can be used more consistently.
You can create a free Amazon Business account to save up to 10%. Isn't it a piece of good news? Yes, it is! Just go and grab this E.L.F cosmetics E.L.F Daily Brush Cleanser from Amazon or from any other site for a quick cleaning and clean makeup application. This product is also available at any good cosmetics shop.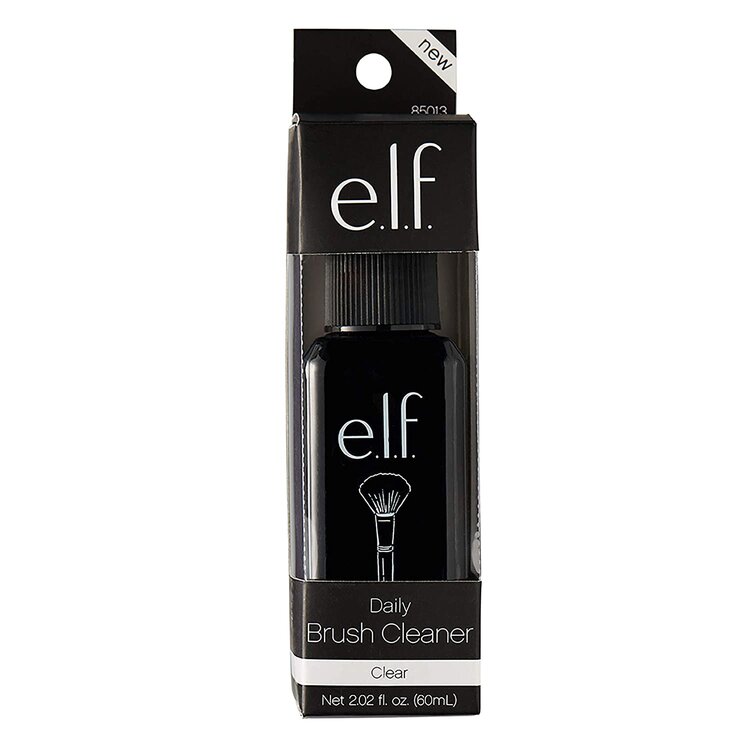 So we are done reviewing this excellent E.L.F. cosmetics brush cleanser. For quick cleaning and deep cleaning E.L.F. Daily Brush Cleaner can be the best item you can find in the cosmetics market. This anti-bacterial daily brush cleanser will work effectively on your brushes. Make your dirty brushes clean with your favorite Elf product which is the daily brush cleaner. If you ask which brush cleanser should you use? We definitely recommend E.L.F.  Daily Brush Cleaner.
Q. How do you use ELF daily brush cleaner?

Ans. Using a brush cleaner for your makeup brushes is necessary. You don't have to worry about how to use it and what is the process to use a daily brush cleaner. You can call this one of the easiest tasks!
Gently spray the cleanser over the brush bristles multiple times. Wipe the brush with a clean cloth to eliminate makeup. A paper towel or a hand towel would be sufficient. Allow the brush to air dry completely before using it. Repeat on a daily basis or as required. Wash your brushes once a week with the e.l.f. Studio Brush Shampoo for a great outcome.
Q. Is E.L.F. a good brand?
Ans. E.L.F. is an American brand that sells cosmetics items and skin care items. they have some amazing products and they are trusted and loved by lots of customers. We didn't find many negative comments about the brand yet.
e.l.f. is a trustworthy brand for high-quality cosmetics. It is surprising how affordable their products are. Though not all the products of e.l.f. brand is best but e.l.f. brand as a whole has a lot more going for it and is well worth trying out. If you want to try their products you are welcome!
Q. What ELF products are worth buying?
Ans. The reason behind falling in love with the E.L.F. Cosmetics website is because they have free shipping options and often have free gifts with purchase. Almost every single brand has some excellent products. E.L.F does have the same. Let's discover their best products that are star rating.
The best E.L.F. products that are worth trying are Instant Lift Brow Pencil, Baked Highlighter in Moonlight Pearls, 16HR Camo Concealer, Poreless Face Primer, Precision Liquid Eyeliner, Wow Brow Gel, Lock On Liner and Brow Cream, Cream Eyeliner In Black, Aqua Beauty Molten Liquid Eyeshadow, and Contouring Blush & Bronzing Powder In Fiji (Matte) product is also a good one.
Q. What is the best makeup brush cleaner?
Ans. Makeup brushes are an essential part of the makeup routine. For makeup brushes using a good cleaner is necessary for having a perfect makeup application. That is why we are mentioning the best makeup brush you can buy.
After researching, we have found for a deep cleaning and a perfect makeup application MAC Cosmetics Brush Cleanser, Cinema Secrets Makeup Brush Cleaner, e.l.f. Cosmetics Daily Brush Cleaner, Make Up For Ever Instant Brush Cleanser, EcoTools Makeup Brush Cleansing Shampoo,  Missha Deep Clean Brush Cleanser, Japonesque Solid Brush Cleanser, Clinique Makeup Brush Cleanser and bareMinerals Well-Cared For Makeup Brush Cleaner can be the ideal option.
Q. What do professional makeup artists use to clean their brushes?
Ans. Professional artists always try to look for the easiest and best method for any makeup work. So in the case of cleaning their brushes they use dish soap.
The most common solution is dish soap, according to makeup artists. Professional makeup artists like Avendaño works best for removing difficult foundation from bristles. For the aromatherapy effects, Lerma like Mrs. Meyer's Clean Day Dish Soap, notably the Lavender, Rosemary, and Lemon Verbena aromas. They are the best option for them to clean their makeup brushes.